About Us
Mission Statement
Our mission is "to enrich our guests' lives through an incredible experience in the outdoor world of the Central Coast."
What We Do
We are a small adventure travel company based in San Luis Obispo County, California. We work with group travel planners and travel tour operators, as well as individuals to provide outstanding outdoors tours on California's Central Coast region, including Paso Robles wine country vacations. Our three main activities are kayaking, bicycling and hiking. While we specialize in small group travel, we have also hosted events with over 50 people.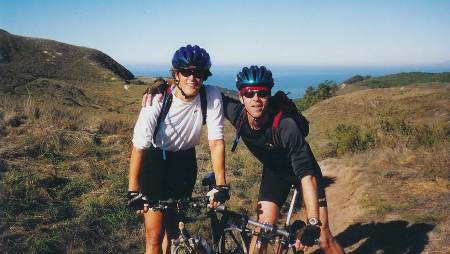 Company History
Central Coast Outdoors was started in 2003 by John and Virginia Flaherty, the current owners. Both John and Virginia have extensive backgrounds in guiding outdoors trips all over the world for other outdoor touring companies and decided it was high time to hang out their own shingle, stick closer to home and show people the wonders of California's Central Coast.
Our very first trip was an eight day custom bike tour in June 2003 for a wonderful group of six people from the East Coast. After that not much happened that first year. We ran a grand total of seven trips in 2003 (mostly day trips for one or two people).
Since then, however, things have really started to happen. In 2004 we added kayak-only trips on Morro Bay and they have been our most popular trips. In 2005 we hired a small part time staff of guides to help with our increasing volume. We also started launching our kayak tours from Morro Bay State Park Marina instead of a kayak shop on the Embarcadero in Morro Bay. In 2006 we added all kinds of kayaking tours on Morro Bay and added the half day bike / half day wine taste trips. Virtually all of the multi-day tours we run are custom private trips, so we no longer advertise date specific multi-day departures on our website.
In 2010 we added self guided bike tours to our trip mix and these have been very successful, especially long distance self guided bike tours down the California coast between San Francisco and Los Angeles. By Fall 2102 we had grown enough that we moved into a new office space in downtown Los Osos. In 2013 we are celebrating our 10th anniversary and feel lucky to have introduced over 10,000 people to the outdoor world of the Central Coast since we opened our doors.
We remain a small company and the owners do much of the guiding themselves.
Owners
John Flaherty
A self professed outdoors junkie, John has hiked, ridden and paddled on five continents. He has hiked the entire John Muir Trail, bike toured in Patagonia and sea kayaked in New Zealand and Baja. John moved to the Central Coast in 1997 and immediately fell in love with the area. "The first time I did a ride in Montaña de Oro State Park, I almost fell off my bike - it was so beautiful. Ever since that moment, we have been looking for a way to translate our extensive experience in the active travel world into creating opportunities for people to experience the Central Coast."

As a guide and field manager with Backroads® for 13 years, John gained invaluable experience in designing and running first class active travel trips for people of all ability levels.What he loves most about guiding is being able to facilitate an incredible outdoors experience, "to take people to a place they might not find on their own and
stand back as they have a 'Wow' moment." John graduated from Dartmouth in 1987 with a B.A. in History and is an avid amateur natural historian and photographer. He can often be found tramping around the hills near his home with a flower book in one hand and a camera in the other.
Virginia Flaherty
Growing up in California, Virginia developed a passion for the outdoors at an early age. By age ten she was a veteran of many Sierra backpacking trips led by her father. "I remember feeling complete happiness at being outside backpacking with my dad. It was very special to be together in such a beautiful place." Virginia's family members are long time residents of the Central Coast.

Virginia is an accomplished world traveler, having spent part of her childhood in Germany and traveling to virtually every country in Europe. Since then she has also traveled to South America, New Zealand, Australia, Africa, the Himalayas and Indonesia. Virginia graduated from UC Santa Barbara in 1985 with a B.A. in German Language and Literature and can still manage to hold a conversation in German. As a guide, hiring coordinator and European field manager for Backroads® for 15 years,
Virginia developed a knack for creating smooth running events and trips, no matter the size nor complexity. "I get a kick out of taking the hassle out of trips so people can focus on why they are really there, to be outdoors having fun and to enjoy a beautiful natural place."
A competitive swimmer for much of her youth, Virginia now enjoys mountain biking, road riding, kayaking or stand up paddling on the bay and simply being outside here on the Central Coast. Her other passion is wildlife rehabilitation and she works as a Supervisor for the local non-profit wildlife rehab center, Pacific Wildlife Care. She also does educational talks with PWCs educational animals.
In 2003 John and Virginia traveled to China and adopted their daughter, Kinley.
Guides
Kat Amsinger
Kat was born and raised in Oregon where nearly every weekend of her childhood she was camping, hiking or kayaking with her family. Mountains, rivers and beaches were around every corner and her father encouraged constant exploration. Since moving to California, she has been finding new adventures all around the state to enjoy, such as Yosemite, Big Sur and Sequoia National Park. "I couldn't have settled in a more beautiful part of California. The people in Morro Bay are wonderful and the scenery is so breathtaking that I never tire from it."

She has always known she would work with nature and since graduating from Oregon State she has explored many directions to incorporate that into a career. Taking reptiles to classrooms, training animals as a zookeeper, driving/guiding bus tours through the San Diego Zoo, and taking students on nature hikes are all experiences that have shaped her knowledge of the natural world and her love of sharing its wonder with others.
Karen Johnston
| | |
| --- | --- |
| | Karen has always had a passion for nature and the outdoors. Her first job was working on a horse ranch and giving tours on horseback in the Santa Monica Mountains. Later on she attended the Exotic Animal Training and Management program at Moorpark College where she worked with and trained everything from an African lion to a bald eagle. After completing the program, she went to Cal Poly San Luis Obispo to finish her Bachelors of Science in Animal Science as well as a minor in Equine Science. Karen also teaches elementary students about natural history and ecology in an outdoor school setting. When she is not kayaking on the bay, you can find her mountain biking, scuba diving, or snowboarding. |
Rose Weggler
Spending her summers growing up on a small lake in Maine ten miles from the ocean and close to mountains, Rose has utilized the outdoors as her playground from a young age. She graduated from the University of Vermont in 2008 with a degree in Recreation Management and Sustainable Tourism in the Rubinstein School of Natural Resources.

Since then Rose has worked at an eco-resort in the Caribbean, worked on a farm and traveled in Patagonia, South America, and has worked as crew on sailboats in Maine, finding herself on a few boat deliveries to and from the Caribbean.

Since 2007, Rose has worked for various kayaking companies back east. In the spring of 2011 she became certified as a registered Maine Sea Kayak Guide, guiding
in Maine and now for Central Coast Outdoors starting winter of 2011. Rose is enthusiastic on and off the water and thoroughly enjoys sharing her love for and knowledge of the environment around us.
Kyle Nessen
| | |
| --- | --- |
| | From a very young age, Kyle has had a tenacious attraction to nature. It was not uncommon to find him crawling through a narrow deer trail, or snorkeling in the kelp forests of Catalina Island. His enthusiasm for nature got him his first job as a field station manager in Baja, California. For 2 years he called Bahia de Los Angeles home, where he helped lead study abroad programs that focused on marine biology. Kyle was fortunate have many wonderful encounters there, including swimming with whale sharks and exploring uninhabited desert islands. The experience encouraged him to pursue a degree in biology, which he began at Cuesta College in 2012. Here he took as many field courses as possible, and founded the Cuesta Naturalist Club. His two and half years at Cuesta firmly introduced him to the rich natural history of San Luis Obispo county, and acquainted him with many of it's local characters. Kyle is currently at Cal Poly San Luis Obispo, where he is studying ecological systems with a degree in Biology. He is a curator for the plant conservatory, and is actively involved in graduate level research among his own undergraduate projects. His love for nature and the Morro Bay area is infectious, which he uses to share a sense of renewed wonder as often as he can. |
Kyla Grafton
| | |
| --- | --- |
| | Growing up on a ranch on California's Central Coast provided an early and bountiful immersion into the natural world for guide Kyla Grafton. While attending Humboldt State University in the heart of the redwoods her love for the outdoors blossomed. College exposed Kyla to several outdoor recreational pursuits. She was able to combine her love of whitewater rafting and kayaking with her education in Natural Resources to work as a kayak and interpretive ranger for the National Park Service. She has also worked as a naturalist and guide in Alaska, a whitewater river guide in Northern California as well as a naturalist educating children in an outdoor school near Santa Barbara. Working as a guide and naturalist is often seasonal, which has given Kyla the opportunity for much global exploration. |
Cycle touring through Laos, trekking in the Himalayas, paddling in New Zealand, living with a Garifuna family in Honduras and scuba diving along Australia's Great Barrier Reef have been some of the highlights during her life of travels.
Kyla is currently developing a new set of skills as a wife and mother to two young children. Among other things her kids are helping to rekindle her sense of wonder through their joy of rock hopping, puddle jumping, tree climbing and boogie boarding.
Erin Aiello
| | |
| --- | --- |
| | Erin grew up in beautiful Cambria, California, where she spent most of her time playing in the woods and developing a love and a curiosity for the outdoors. She has since followed her curiosity to Cal Poly, where she studies Biology, and to Pacific Wildlife Care, where she gets hands-on experience with much of the local wildlife that we see on the bay. She loves to talk about the wonders of the county she grew up in and the incredible creatures we share it with. She especially loves birds and loves to be active in a kayak on the bay, on her bicycle around town, or on her feet hiking one of the many trails the Central Coast of California has to offer. In her down time, Erin likes to paint, and you can often see one of her paintings on the auction item list at benefits for Pacific Wildlife Care. |
Craig Stone
| | |
| --- | --- |
| | Craig is a true local, born and raised in the San Luis Obispo area. Although Craig has traveled quite a bit, he refers to Morro Bay as his home port and currently resides there. Craig is an artist and can often be found at local art and music festivals. He is an avid mountain biker as well as a hiker and a kayaker and loves exploring the Big Sur area. Craig is passionate about sharing the wonders of our local area with visitors and locals alike. He can often be found on Morro Bay for a dawn kayak over to the dunes for a bit of meditation and yoga. |
Steve Hendricks
| | |
| --- | --- |
| | Steve grew up in SLO County, where he developed a lifelong passion for the water. He went north to Humboldt State (where he met his wife) and Oregon State to study Fish Biology. After working for 12 years as a fisheries biologist in the Northwest, the rain finally got to Steve and his wife and they moved back to SLO County. For the past 6 years Steve has taught biology at Cuesta College and Hancock College. When he's not exploring the coast with his young daughter Zoe, Steve enjoys fishing, surfing, mountain biking, hiking, SCUBA diving and (of course) kayaking. He has been kayaking for over 25 years and loves sharing the beauty and wonders of the Morro Bay estuary with unsuspecting visitors! |
Mandy Davis
| | |
| --- | --- |
| | If you could describe Mandy in a few words it is this... she possesses an adventuress spirit, a keen eye for the patterns in nature and a deep love for creatures and the ecosystems they live in. She has a strong background in biology, decades of coaching and environmental instruction, experience as a world-class competitive paddler, a lifetime relationship with the ocean, and has been an environmental activist, a poet, and a creative director of an advertising and marketing firm. All this background and passion gives her a unique ability to communicate her love for the earth and share it with others. After years of travel to and paddling in places as remote as Antarctica, the Galapagos, South Africa and Tasmania, Mandy firmly believes that the Morro Bay Estuary is an unsurpassed coastal jewel and one of the best locals for environmental education and unique wildlife experiences in the world. The Central Coast always |
draws her back home like a homing pigeon. It is here she was born and raised, and it is her privilege to call the waters of the estuary home today. It is her pure delight to share her rich and unique home with others when she can.
Dave Camilleri
| | |
| --- | --- |
| | Dave has been a world traveler from birth by virtue of his father being in the navy. His family loved to boat, fish and camp when he was young and Dave credits these numerous trips for his love of the outdoors. Dave is most at home in the water and is an avid surfer. His adult travels have taken him to many Pacific Rim destinations including Guam, Costa Rica and Kauai. Dave currently resides a stones' throw from the ocean in the town of Morro Bay with his wife Margo and their young daughter Jessica. When not surfing or guiding kayak trips for Central Coast Outdoors, Dave can often be found working with young students at one of our local environmental schools or camps. |
Paul O'Connor
| | |
| --- | --- |
| | Since retiring as a Fire Captain in the California Department of Forestry in 2006, Paul has thrown himself into outdoors pursuits with a passion. He has become an accomplished docent for Morro Bay State Park, as well as for the Point San Luis Lighthouse, guiding numerous tours in both areas for all kinds of people. With 15 years of kayaking experience plus his naturalist training and an all round friendly demeanor, Paul is a great asset to the Central Coast Outdoors guide team. |
Ed Roberts
| | |
| --- | --- |
| | Ed spent his early youth watching the Atlantic swells crash on England's west coast, his high school days learning to kayak whitewater and climb rocks further inland. A college internship in California introduced him to the joy of teaching and his lovely wife. Now living in Morro Bay, Ed teaches about the natural world at a local outdoor school. He can be found on his time off gliding over the Pacific in his homebuilt kayak or exploring the depths with SCUBA gear. For Ed, helping people explore and sharing knowledge about the fascinating non-human residents of the bay while kayaking is like gravy on top of gravy. |
Steve Schubert
| | |
| --- | --- |
| | Steve attended Cal Poly, San Luis Obispo and received a Master's degree in Field Biology. He taught high school biology and earth sciences for several years and presently teaches natural history courses for Community Programs at Cuesta College and works for a local residential outdoor school attended by 6th grade students. Steve served on the committee that recently published "Wildflowers of San Luis Obispo" and is the author of "The Peregrine Falcons of Morro Rock - A 40-year History", available at Amazon.com. He is past-President of Morro Coast Audubon Society and is the volunteer coordinator of the Hi Mountain Lookout Project, where volunteers and college interns radio track the movements of California Condors and conduct other biological field research projects. Steve enjoys kayaking, running, biking, hiking, playing basketball, and wildlife and landscape photography. |
Katharina Obermoser-Ruef
| | |
| --- | --- |
| | Katharina grew up in a small town in Austria where she and her siblings spent many memorable summer weekends hiking with her dad. In the winter he taught the family how to downhill and backcountry ski. Since childhood, Katharina has always had a love for the outdoors, adventure, and just being active. Wanting to combine her love of the outdoors with education led her to pursue a BS in Recreation Administration with an emphasis in outdoor education from Cal Poly in San Luis Obispo. Katharina loves to kayak, hike, do yoga and Pilates, and to just explore this incredible place that she lives in. She also enjoys traveling and learning about different cultures. Katharina is curious by nature and loves learning about wildlife as well as sharing her discoveries with others. |
Rouvaishyana
| | |
| --- | --- |
| | Rouvaishyana earned a certificate in Natural History and went through the Marine Science program at College of the Redwoods in Ft. Bragg, CA. He has been with California State Parks since 1989, and has managed the Morro Bay Museum of Natural History since 2005. He has also worked in ocean phytoplankton, marine fisheries, and as an educator for Audubon Society, California Native Plant Society, and Elderhostel (now Road Scholar). He has written guidebooks to fishing and diving sites, kayak and canoe sites, and native plants (all in Mendocino County, where he used to live) plus a children's book. He is an avid ocean kayaker, with nearly 200 ocean excursions. Besides SLO County, he has gone ocean kayaking in Mendocino County, San Francisco Bay, at the Channel Islands, and in conditions ranging from fog to night to rainstorms. Here in Morro Bay, he especially enjoys watching birds and wildlife. He has been a board member and event leader for the Morro Bay Winter Bird Festival since 2006, and a naturalist on local whale watching boats since 2007. |