Big Sur Guided Hike
4/29/21 update: Due to lingering effects of the Dolan Fire and trail closures at Limekiln State Park, we have suspended our Hiking: Big Sur Ecotour until further nortice.
Our Private Hike Tour Guarantee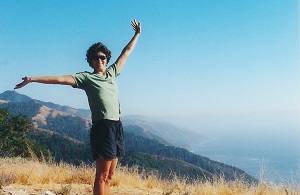 Our Big Sur guided day hike is guaranteed to be a private exclusive affair. Once we meet you at the start of the tour, we are yours for the rest of the trip. Our guides will cater to your personal preferences and can change the tour (within reason) to fit your needs. No one else will be on the tour. Our minimum booking size is two people for Big Sur hike eco tours and our prices vary according to your group size. Treat yourself to our personalized service!
If you are planning a Big Sur tour with us from late Fall through Spring (November through April), please explore our Big Sur Highway News page for information about how potential Highway One closures due to rain storms may impact the Hiking: Big Sur Ecotour.
HIKING: Big Sur Ecotour (Family Friendly) -
4/29/21: Suspended indefintely due to Dolan Fire related trail closures.
Itinerary Description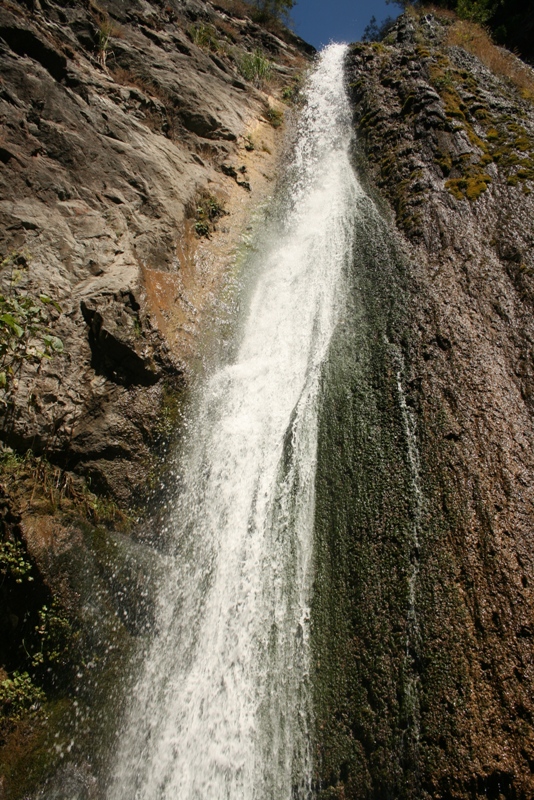 Get ready for a classic Big Sur adventure - exploring misty redwood filled canyons, waterfalls, rocky beaches and several intriguing historic sites, all in the span of one day! On this private guided hiking eco tour of the Big Sur coast, your guide will drive you between trailheads and take you on the hikes, leaving you free to admire the stunning views of the coast and watch for a glimpse of the majestic and rare California condor or even whales. At Julia Pfeiffer-Burns State Park you will take several short hikes; visiting a secluded rocky cove, several historic structures and a waterfall plunging to the sands below. Farther south along the Big Sur coast at Limekiln State Park, delightful trails meander among redwoods to historic lime kilns. An optional side trip along a trail with stream crossings takes you to a spectacular 100' foot waterfall. Amongst these wonders your knowledgeable and enthusiastic naturalist guide will relate stories behind the scenes and lay out a gourmet picnic lunch in the shade by a cascading creek. This is a great Big Sur guided trip for families as well as adult groups and truly highlights the incredible diversity of the Big Sur coast. Please note that this is not a particularly strenuous hiking tour and although we can modify the tour to some extent to add some more challenging hiking, if you want a very challenging hiking tour you should contact us to discuss options.
Distance
4-5 miles split between several hikes. Total hike time is 3-4 hours
Difficulty
Moderately Easy
Terrain
Mostly gentle terrain with one steep 1/4 mile descent and climb
Total Tour Time
6-9 hours, including drive time (depends on where we meet you - see below) and lunch
Complimentary Pick-Up

Morro Bay/Los Osos/Cayucos (meet at 7:30 am, return 4:30-5:30 pm)

Cambria/San Simeon (meet at 8:00 am, return 4:00-5:00 pm)

Ragged Point Inn (meet at 8:30 am, return 3:30-4:00 pm)

Treebones Resort (meet at 9:00 am, return 3:00-3:30 pm)

People staying in other places in San Luis Obispo (SLO) County usually meet us in Morro Bay or Cambria for the drive up to the hiking areas.

People staying in the town of Big Sur or the Monterey/Carmel area usually meet us at the first hiking location - Julia Pfeiffer Burns State Park - at 9:30 am.
Price Per Person, by group size (youth discounts)
| 2 people | 3 people | 4 people | 5-9 people | 10 or more |
| --- | --- | --- | --- | --- |
| $220 | $190 | $170 | $155 | Please inquire |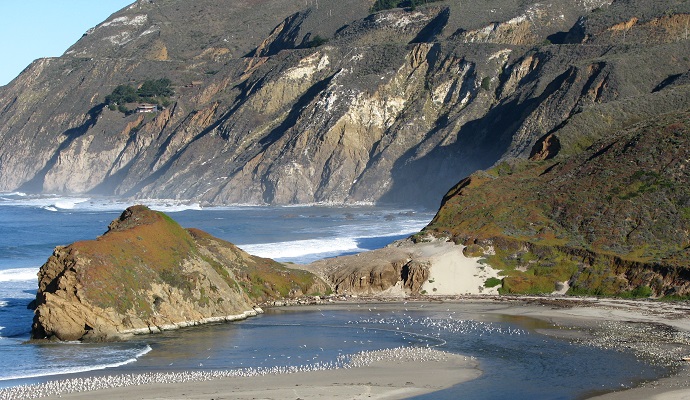 "Richard and I just made it back home and we talked about how great the tour was all the way home! John is an extremely intelligent and informative guide and we both learned a lot during our tour. We would not have been so adventurous on our own and John provided a lot of insight into the biological make-up of the Big Sur coastline. And we absolutely LOVED our picnic lunch! We will not hesitate to recommend Central Coast Outdoors to anyone heading up your way, and we will definitely book another tour for ourselves on our next trip! Thanks for a wonderful and memorable adventure!"

Kelley and Richard Saunders
Mission Viejo, CA
What does the price of the Big Sur Guided Ecotour include?
Our Big Sur hiking eco tours are fully guided private, exclusive tours that include everything to make your time with us as pleasant and care free as possible. Included in the price of the hike tour are:
Vehicle transport during the tour.

During COVID-19 everyone in our vehicle will be required to wear a face mask.

Naturalist guide/driver.
Snacks and water.
Complimentary pick-up at locations along the coast between our office in Los Osos and the first hiking location on the Big Sur coast. Please contact us for logistics of when and where to meet us if you are not staying on the coast in northern SLO County or southern Monterey County.