Morro Bay Private Kayak Tours
If our regular Morro Bay kayak tours aren't quite what you are looking for or if you just want a private tour, we are happy to accommodate you. Most people doing private kayak tours on Morro Bay with us do either a two hour or a three hour tour (you pick the time to meet) or simply request to have a regular tour turned into a private tour. You can also do private kayak tours that include a wonderful picnic lunch or a grilled dinner on the dunes. We also offer dog friendly private kayak tours and private kayak tours that focus on birdwatching. Large groups (up to about 50) are also welcome! The best way to set up a private tour is to call us at 805.528.1080 or send an email to info@centralcoastoutdoors.com.
LARGE GROUP (10+) YOUTH GROUP TOURS qualify for our group discount rate for any tour.
KAYAKING: Private Two to Three Hour Tours and Private Regular Tours
The three hour private kayak tour typically visits all the same places on the bay that our Kayaking: Morro Bay Half Day Classic Tour does. This is also our most popular tour for large groups like school groups, youth groups or company outings. The two hour version typically visits just two out of the following three locations (heron preserve, oyster farm/harbor seals, sand dunes). The chart below gives per person costs for various group sizes and private kayak tour options.
| Group Size | 2 hour tour per person | 3 hour tour per person | Per person adjustment for regular tour into private tour except Short Paddle | Adjustment for Short Paddle |
| --- | --- | --- | --- | --- |
| 1 | $100 | $130 | add $60 per person | add $40 per person |
| 2-3 | $80 | $110 | add $40 per person | add $20 per person |
| 4-6 | $70 | $90 | add $20 per person | add $10 per person |
| 7-9 | $60 | $70 | None | no change |
| 10+ | $48 | $56 | Subtract 20% per person | Subtract 20% per person |
"Greg's love of learning and respect for nature were evident to us and made for a wonderful time. Additionally, the lunch was outstanding!!!! Hats off to the chef and tour guide."

Marsha Plafkin Los Angeles, CA
---
KAYAKING: Private Tours with Lunch or Dinner
Kayaking Morro Bay out to the sand dunes and having a gourmet picnic lunch or a California beach style grilled dinner is truly a memorable experience.
If you'd like to add the gourmet picnic lunch to your private Morro Bay kayak tour, this works best if we do an extended version of our Kayaking: Half Day Classic tour to allow for additonal time on the dunes to eat lunch. With this scenario, we meet at 9:00 am and are usually back to the docks between 1:00 pm and 1:30 pm. We usually serve the same picnic lunch that is featured on our bike tours or Big Sur hike tours.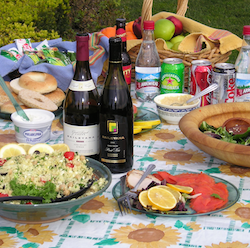 If you'd like to add the California beach style grilled dinner to your private Morro Bay kayak tour, this works best if we do a modified version of our Kayaking: Sunset Paddle tour. With this scenario we usually meet at roughly the same time in the late afternoon as the sunset paddle, but spend a little less time on the water to allow for time to eat dinner on the dunes before it gets dark. We normally serve our Dinner on the Dunes menu, which appeals to a wide variety of people, but large groups (10+) can also contact us if they'd like to modify that menu.
Either of these tours are great options for larger groups as well.
Price per person, by group size:
| Group Size | 2-3 | 4-9 | 10+ |
| --- | --- | --- | --- |
| Lunch Kayak Tour | $130 | $100 | $80 |
| Dinner Kayak Tour | $140 | $110 | $90 |
Click on this link for standard menus for these tours.
---
KAYAKING: Private Tours with Dogs
As dog owners ourselves, we understand how enjoyable it can be to take a dog on a dog friendly kayak tour or other outdoor adventure. We can accommodate dogs on our guided Morro Bay kayak tours, but there are some additional considerations. First, we ask that people with dogs book as a private kayak tour. We love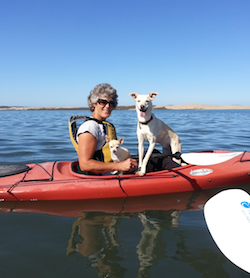 dogs, but we can't speak for other people who may sign up for a kayak tour with us. Second, dogs are not allowed on the sand dunes on the far side of the bay, so we usually recommend doing a two hour private tour that does not land on the sand dunes - roughly the same itinerary as our Morro Bay Short Paddle. The rate for this would be the same as for a private two hour tour listed above. See pricing above for specifics.
Another consideration is that during the late fall and winter there is a short hunting season for geese and ducks allowed on Morro Bay and we sometimes hear gunshots on kayak tours on Morro Bay during this time frame. For some dogs this may not be an issue, but for others it might be. We encourage anybody contemplating booking a dog friendly kayak tour during this time frame to contact us for more information.
And dogs are free with full paying humans on private kayak tours!
---
KAYAKING: Private Birdwatching Tours
Morro Bay is an internationally recognized birdwatching hot spot. In winter you can see dozens of different species on the bay. While you will certainly see plenty of birds on our regular tours, if you really want to slow the pace down and spend more time learning about birds and identifying them, we recommend a private tour, either two or three hours in length. See above for pricing.

We've run the kayak bird watching tour program for the Morro Bay Winter Bird Festival for many years as well. If you are an avid birder, we encourage you to check out the festival and sign up for one of the kayak tours that we do with them. You can also check out the bird lists to see what kind of species you might see in and around the bay.