Big Sur Highway News
Highway One down the Big Sur coast is one of the most spectacluar roads to cycle in the country. However, due to it's rugged terrain and isolated location, there are often issues with the road that cyclists need to be aware of. One issue is significant construction projects. The other is potential closures due to possible landslides caused by heavy rain.
construction projects
Although there are almost always some construction projects on Hwy 1 along the Big Sur coast, some have more impact on cyclist than others.
Pavement and Guardrail Work - Carmel to Torre Canyon Bridge
Updated 7/26/20
Some sections of rough pavement noted below have recently been freshly paved in the southbound direction.
Updated 7/22/20
Currently there is a rather long section of Hwy 1 on the northern Big Sur coast is under being worked on. The section they are working is about 30-35 miles or so, from Carmel south on Hwy 1 past the town of Big Sur to Torre Canyon Bride near the Coast Gallery and Cafe. The project involves pavement rehab and guardrail replacements. In this section thare are parts of the road that are ground up and very rough and there are also sections where there are cement barriers preventing you from getting on the shoulder even if you wanted to. Furthermore, there is often a nasty lip between the ground up section and the white line as well. Doubtless conditions will change as the project progresses, but it is not scheduled to be fully complete until July 2021.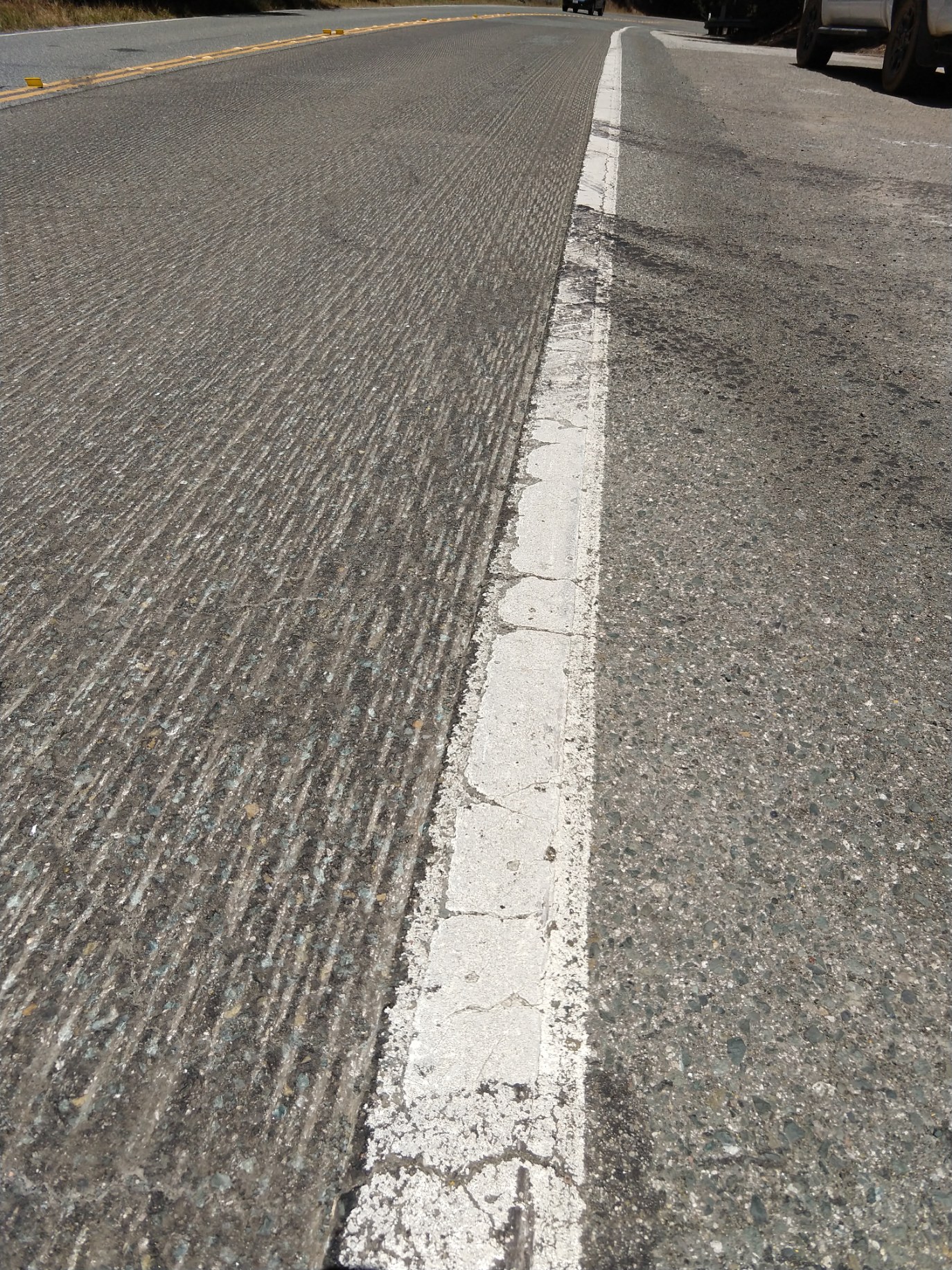 Ways to mitigate
Although you can detour around it, the detour is very long and goes inland and you end up missing a long portion of the incredibly scenic Big Sur coast. Some tours that have a car for support are driving some or all of it in the car as a preview once you got to Carmel to check it out. Some may elect to shuttle in their support car after viewing the condition of the road. If you have wider tires on your bike it may help alleviate some of the roughness of the pavement. The tires on our rental bikes are 32c and will certainly make the road feel a bit less rough compared to 23c or 25c tires.
closures due to rain and landslides
Updated 2/3/2020
For the current rainy season in 2019-20, Caltrans has announced a policy where they may preemptively close Hwy 1 in advance of large storms at certain points along the Big Sur coast where landslides have occurred in the recent past. The rainy season is usually considered to be from November through April, with most rain falling from December through March. However, long periods of dry weather can occur during the 'rainy season' and there is also a small chance rain can also occur during October and May.
The potential closures are at Paul's Slide (between Lucia and Lime Kiln State Park) and at Mud Creek (between Gorda and Ragged Point). 48 hours prior to a storm's arrival a closure warning will be announced. At 24 hours prior confirmation of the closure will be announced. Closures will be for an indefinite period of time and the actual duration of the closure will largely depend on whether or not any landslides occur during or immediately after the storm. Although there is no way to predict how often closures will happen and how long individual closures might last, during the 2018/19 rainy season the highway was closed a handful of times, usually for 1-3 days. It is also possible that landslides at other points along the highway may occur during or after periods of heavy rain, forcing other closure(s). As of early February 2020, the 2019/2020 rain season has had lower than average rain totals with few large storms and the highway was only closed once in early December.
Here are a good resource for current updates about highway conditions:
The closures may affect any of our tours that are along Hwy 1 on the Big Sur coast:
See the relevant sections below for how this might affect these tours.
Policy on potential highway closures for Hiking: Big Sur Ecotour – 2019-20
The potential closures will have an impact on whether or not we can run the Hiking: Big Sur Ecotour at all or if we may need modify the tour with a possible surcharge. The surcharge would be to account for any additional driving time to get to the hiking areas by our guides. Additional drive time (depending on where the closures are) can be up to 1.5 hours for us. Surcharges would most likely be $75 flat fee for a party of 1-3 and $100 flat fee for a party of 4-10.
If closures occur, we will contact you as soon as we can and let you know how it might impact your tour. Based on where you are staying and where the closures are, you may be offered one of several options:
Cancel the tour with a full refund.

Rebook the tour for another date. No transfer fee.

Do a modified tour with a possible surcharge.
Policy on potential highway closures for Biking: Self Guided tours – Winter 2019-20
These potential closures will have an impact on whether or not you will be able to cycle down the Big Sur coast on Hwy 1 during a self guided bike tour. If closure(s) occur, you have the following options:
If the closure(s) occur before the tour starts, you can cancel with a full refund.
You can cycle an inland detour that adds significant miles and hills (see below).
We may be able to shuttle you around for an added fee.
If the tour has already started you can end in Monterey/Carmel, north of the closure(s). Usually no refund for this option.
Inland Detour
Inland detours around the potential closures are quite lengthy and hilly. Depending on where you are if/when closures are announced, a cycling detour may add up to 50-100 miles to the tour and you would miss all or most of the Big Sur section of the coast. It may also require cancelling some accommodations, booking new accommodations along the detour and possibly changing dates for other accommodations. We will provide you with all the necessary information to cycle possible detours. We will also reschedule a trip end meet date and time as necessary at no extra cost to you.
Note that if you start the detour in the Monterey/Carmel area and go all the way around to just south of Cambria it adds about 50-55 miles. If you are willing to cycle some longer days during the detour, it is usually possible to finish the tour within the original time allotted.
Shuttle Around
Depending on our availability of vehicles and guides, we may be able to pick you up and shuttle you around the closure(s) for an additional fee. While it is highly unlikely we would not be available to do a shuttle on most days in the winter, there is no absolute guarantee we will be available on short notice and you may have to wait up to a day or longer for us to get to you. Furthermore, the cost of a potential shuttle is not covered in the cost of the tour and will cost an additional $300 flat rate for groups of 1-3 people.
End in Monterey/Carmel
If any closures are announced after you start your tour but before you get to the Big Sur coast (and you don't want to do a cycling detour or pay for a shuttle), it is also possible to end the tour in the Monterey/Carmel area. We will drive up to meet you there as soon as we can. Due to the cost and time for us to drive to the Monterey/Carmel area instead of the trip end there will be no refund of our fees (except for a small refund for tours originally scheduled to go all the way to Santa Monica/LA).
Policy on potential highway closures for Biking: Guided tours – Winter 2019-20
If closures occur that affect the tour, we will cycle as far south as possible, and then shuttle around the closure(s) to continue cycling on the other side. There will be no extra cost for this (and no refunds). Note that depending on where the closures are, the shuttle time may be up to 4 hours.