Morro Bay Regular Kayak Tours
See why our tours are ranked #1 in Morro Bay on TripAdvisor !
Kayak Morro Bay with Us
Kayaking Morro Bay with an expert nature guide from Central Coast Outdoors ensures you will see the wonders of this extraordinary National Estuary. You can kayak Morro Bay in all its moods, sharing it with wildlife like harbor seals, sea lions and sea otters, as well as literally hundreds of species of birds, including several rare and endangered species. Great for families and beginners! Please click on any of the individual kayak tour links on this page to find the best Morro Bay kayak tour for you.
The waters of Morro Bay are protected from the open ocean by a scenic four mile long sandspit and the weather is moderate year round, creating an ideal place for beginners, families and experts to kayak. The wildlife viewing on Morro Bay is truly exceptional and is even better from a kayak! We normally have a low client to guide ratio (no more than 8:1), so you'll never feel like you are lost in a crowd. Join us on one of our kayak trips on Morro Bay and experience one of the best kayak trips in California.
Our regular kayak tours with set times and itineraries are listed below. We also have several private kayak tour options, including tours with lunch or dinner on the dunes, bird watching tours, large group (maximum 32) tours and more. LEARN MORE...
---
Our most popular kayak tour! Great for everyone, including beginners and families. An easy morning of paddling visiting with wildlife on the bay combined with a short hike on the sand dunes. LEARN MORE...
---
Short version of our popular Half Day Classic. Focuses on wildlife on the bay. Does not visit the sand dunes. Perfect if you have limited time to explore the bay. Also great for families and beginners. LEARN MORE...
---
Explore the changing moods of the bay as the day ends and the evening progresses. Includes light eats and beverages (beer and wine too!) served on the sand dunes. Full moon dates also available! LEARN MORE...
---
Youth Discounts
On kayak trips with booking parties of less than 10 total people, youths age 12 and under get a 20% discount. Youths age 13-17 are at the full rate.
---
"Our experience with your company was amazing. From our first phone call to leaving the dock after the trip, everything was wonderful. You and your guides were personable, knowledgeable and accommodating. Our family had a wonderful time, learned a ton, and my partner and I are hooked on kayaking... Thanks for an incredible experience!"

Jenny Adams
Atascadero, CA
Where do your Morro Bay kayak tours meet?
All our Morro Bay kayak tours meet at A Kayak Shack at Morro Bay State Park Marina, 10 State Park Road, Morro Bay, CA. The entrance to the marina is immediately across the street from Morro Bay State Park Campground and shares the same parking area as the Bayside Cafe. Click here for directions.
#faq-4
Do you have single kayaks or tandem kayaks?
We have both single and tandem kayaks available for use. The guide(s) on the tour will work with you to determine what is the best choice for you and your group based on age, experience and conditions on the bay. For large youth or student groups we usually use tandems. #faq-1
Is a guide with us on the tour?
Yes! All our kayak tours on Morro Bay are fully guided tours. The guide will be with you for the duration of the tour, giving instruction on paddling technique as necessary, explaining about the the animals and habitats you'll see, as well as making sure everyone has a safe and enjoyable time. #faq-2
Will I capsize? Do I need to know how to swim?
Capsizes are extremely rare on our tours. Even if you do go into the water for some reason, we require all participants on our kayak tours to wear PFDs (life jackets). These PFDs are designed to float you like a cork in the water until your guide can pull you out of the water. The bottom line is you do not need to know how to swim in order to take a kayak tour on Morro Bay with us. #faq-3
What is provided on your Morro Bay kayak tours?
On all our guided kayak tours of Morro Bay we provide kayaks, PFDs (life jackets), paddles, waterproof fleece lined lap blankets, dry bags (on request), snacks and water. The guide(s) also provide basic paddle instruction and provide commentary on the ecology, history and wildlife of Morro Bay while you are on the water. #faq-5
Do you offer just kayak rentals?
No. Although we provide kayaks for our guided kayak tours on Morro Bay, we do not provide kayak rentals direct to the public separate from our Morro Bay guided kayak tours. If you'd like to rent a kayak, we suggest renting kayaks from the rental facility at the Morro Bay Kayak Shack on State Park Road in Morro Bay: 805-772-8796. We share the same space and use the same equipment as they do, but their hours are different from ours and are seasonal. See their website at https://www.morrobaykayakrental.com/ for more details. #faq-6
Do you do large group kayak trips on Morro Bay?
If you have a student group, a family reunion or some other large event and want to get out kayaking on Morro Bay - give us a call! We've accommodated many groups like this on guided kayak tours and can put up to 32 people on the water at a time. We are highly flexible and can work with you on guide to client ratio as well as food and duration of your Morro Bay guided kayak tour to fit your time and budget. Click here for more information. #faq-7
Do I need to have prior kayaking experience?
Absolutely not! Our kayak tours and kayak trips on Morro Bay are designed to accommodate beginners as well as experienced kayakers. In fact, about half of our participants have never even kayaked before! The best Morro Bay kayaking tours for beginners are the Half Day Classic Tour or the Short Paddle. Because wind can make kayaking challenging for beginners on the bay, the Half Day Classic Tour and the Short Paddle start in the morning, when the wind is usually the lightest.
For families with no kayaking experience and with little kids (i.e. 2-6 years old), a private tour may be your best option, as we can tailor the pace of the tour to your needs and you don't have to be concerned about holding the rest of the group back. The added cost is often a lot less than most people think. Call us for details! #faq-8
Do you have a minimum age?
Yes. Kids need to be at least 2 years of age before you consider kayaking with them. This is due to US Coast Guard guidelines that are typically met once a baby is about 2 years old. The baby must:
Be able to sit still
Be able to float alone in the water
Wear a snug fitting PFD (life jacket)
Weigh at least 18 pounds
Most kids under 10 years old go in the front seat of a tandem by themselves while an adult in your group paddles in the rear seat of the tandem. Another option for very young kids is to sit in a jumper seat facing the rear paddler in a tandem while an older kid from your group or another adult from your group paddles in the front seat.
If you have very young kids who have never been in a small boat and that might be fussy, we highly encourage you to explore a private kayak tour. They don't cost a lot more, youth discounts still apply and it gives you the flexibility to paddle as slowly as you want, alter the tour and/or come back early without conflicting with the rest of the people on a regular tour itinerary.
Kids age 10 and up have the option to go in a single, but we always make sure they understand that they will have to paddle the whole way if they want a single. Furthermore, the guide for the tour is the final authority on whether or not a kid age 10 or slightly older will go in a single (assuming they want to) or in a tandem with someone else in your group. We have appropriate PFDs available for all age levels. Our ability to take kids of virtually all ages kayaking on Morro Bay makes our guided kayak tours among the best kayak trips in California for families. We also have youth discounts available on our Morro Bay kayak tours. #faq-9
Should families with no kayak experience and young kids do a tour?
Yes! But we do recommend considering a private tour if you are at all concerned about potentially holding other people back on a regular tour. On a private tour we can tailor the pace to your needs. A private tour does not cost a lot for a family either! See our Private Kayak Tours page or call us at 805.528.1080 for details. #faq-24
We have more young kids than adults in our group. Is that a problem?
This may or may not be an issue, depending on the exact makeup of your group. Older kids (i.e. 12 and up) are usually good to go in singles or together in tandems. Kids age 10-11 might need an adult or older kid to go with them in a tandem. In most family groups the younger kids go with an adult or older kid in a tandem. Sometimes if the child is very young/small they can go in a jumper seat as a third person in a tandem.
If you have more young kids than adults in your group, a private tour is often the best way to go because on a private tour the guide(s) can kayak with a kid in the front of a tandem (we can't offer this on our regular tours and we can also adjust the pace of the tour so you won't feel like you are holding anyone back.
One person in our group can't paddle. Is that a problem?
If you are doing a regular tour where there may be other people, the non-paddler will go in the front of a tandem kayak with a stronger person from your group in the rear of the tandem doing all the work. This works fine if the rear person weighs more than the front person. On a private tour we can have the guide (or guides depending on size of the tour) take non-paddler(s) in the front of a tandem. However, it is usually best to call or email us to discuss your particular situation so we are certain it will be OK. #faq-17
What kind of kayaks do you use on your kayak tours of Morro Bay?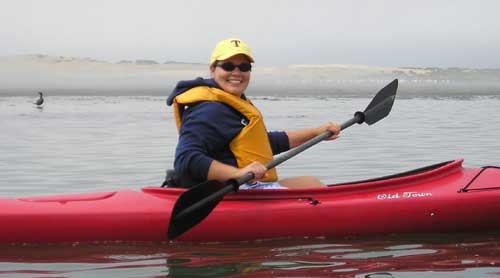 We use traditional "sit inside" recreational kayaks on our Morro Bay kayak tours. These tend to be drier, more comfortable and perform better on the relatively flat water of Morro Bay than "sit on top" kayaks. Recreational sit inside kayaks are also wider and more stable than narrow touring sit inside kayaks. Recreational kayaks tend to have more open cockpits for ease of entry and exit compared to the smaller cockpits of touring kayaks. We have both single and tandem kayaks available. Your guide will work with you to determine the best type of seat configuration for you and the group. Large student or youth groups usually go out in tandems. #faq-10
Are there big waves? Will I get wet?
There are no large waves, but you should expect to get at least a little bit wet. Morro Bay is a great place for kayak trips in California because it is protected from the large waves of the open ocean by a four mile long sandspit. It is like kayaking on a small to medium sized lake, except there are some tidal currents. Occasionally, if it is breezy, small waves may kick up on the bay and you might get some spray in the boat. However, it is highly unlikely large waves will break over the boat to soak you. Water often drips off the paddles into the boat as well. To protect you against spray and paddle drip (and to keep you warm), we have waterproof fleece lined lap blankets available for your use. See gear section in the next category for our recommendations on clothing.
What should I wear for your kayak tours on Morro Bay? Do I need special gear or a wetsuit?
Although you may get a little wet during your kayak tour with us, wetsuits or other special gear are not required on our Morro Bay kayak tours. We use recreational sit inside kayaks, which tend to be warmer and drier than the sit on top kayaks many people are used to seeing on the coast of California.
We also have waterproof fleece lined lap blankets to help keep your mid section warmer and drier that it might otherwise be. Our recommendations for what to wear:
Wear footwear that can get wet and muddy.
Avoid blue jeans or cotton sweat pants. These can soak and hold any water that gets in the kayak, making you wet and cold. Shorts or lightweight long pants are recommended.
Bring a jacket - a windbreaker or waterproof jacket is best.
Add an additional warmer layer for colder weather.
We also have extra warm clothes at the docks in case you arrive for a tour under-prepared.
#faq-12
Are there sharks in Morro Bay? Is it safe?
There are no large dangerous sharks in Morro Bay itself. There are large sharks in the open ocean near Morro Bay, but these sharks do not live in Morro Bay proper, nor do they venture into the areas where we kayak, as the bay is too small and shallow for them. We do have some species of smaller bottom dwelling sharks like horn sharks that live in Morro Bay, but these sharks are not dangerous and it is very rare to actually see them on our tours. We do sometimes find empty egg cases of sharks on the beach - and these are pretty cool. Bottom line - there is no danger from sharks on our kayak tours in Morro Bay. #faq-21
Should I bring my camera or phone?
Bringing any personal electronics or other delicate devices on a kayak tour with us is at your own risk. While there is always the possibility you may drop these items in the water or in the sand, if reasonable care is taken, the risk is minimal. Furthermore, we have waterproof dry bags available at the docks to carry your more sensitive items. #faq-20
Are restrooms available during kayak tours?
There are no formal restrooms facilities during our kayak tours. If your tour visits the dunes, it is usually possible to find a secluded spot and pee. There are restrooms at the docks available both before and after the tours. #faq-22
What is the weather like? What time of year is best?
Morro Bay is a great year round kayaking destination. The weather is mild all year with daily highs rarely outside the mid 50s to mid 70s range with most days having highs somewhere in the 60s. Spring days are often breezy and in summer there is often fog for at least part of the day. Fall tends to have the warmest and clearest weather. In winter we may encounter rain, but a significant number of winter days on the bay feature still water and crystal clear air. Winter is also the best time to see the incredible diversity of migrating birds that call Morro Bay home for that part of the year. #faq-13
"This trip was the highlight of my sister's 50th birthday weekend. Yes, 3 middle-aged sisters did it! We can't say enough good things about this 1st wonderful experience in kayaking. Ed was very patient, knowledgeable about the area... We are all planning on doing other trips with you in the future."

Marty McMillan
Sacramento, CA
Do you kayak if it's foggy?
ABSOLUTELY! Although most people understandably prefer sunny skies, kayaking during foggy conditions on Morro Bay is often a magical experience. The wind is usually less strong when it's foggy and the bay feels very quiet and intimate. Most of the wildlife is typically close enough that you can still see it. Furthermore, the fog is notoriously hard to predict and sometimes comes and goes multiple times during the course of a tour, which can be quite dramatic. And somehow being on the water when it's foggy seems better than being on land. When the coastal areas of SLO County are socked in by fog, there is no place we'd rather be than kayaking on Morro Bay!
#faq-14
Is morning or afternoon better for kayaking on Morro Bay?
In general, mornings typically have less wind than the afternoons, so we usually recommend morning tours for family groups with young kids and/or beginners. Windy conditions make the kayaks hard to steer and can also kick up small waves that make for a wetter experience. Many people think that it will be warmer and more comfortable to kayak in the afternoon, but we have found that wind is usually a far more important factor for kayaking on Morro Bay. For private tours that aren't specifically oriented toward sunset or dinner on the dunes, we usually recommend meeting at 9:00 am or 9:30 am.
Spring is usually the windiest time of the year, and on a windy day the winds usually pick up in the late morning and peak in the early to mid afternoon. We usually don't even schedule private tours to meet in the late morning or early to mid afternoon in the spring because of this. Other times of year this wind pattern is less pronounced and although we still recommend morning over afternoon meeting times, if the only time you have availble for a private kayak tour with us is in the afternoon, we will accommodate you if we have availability.
#faq-28
Is high tide or low tide better for kayaking on Morro Bay?
The answer is BOTH! Actually, any tidal level is just fine for our tours. Unlike some parts of Morro Bay, the marina we launch from is navigable for kayaks at all tidal levels. Once we are out on the bay, each different tidal level gives us interesting opportunities. At higher tides we can explore farther corners of the bay and sometimes even kayak over the top of the partially submerged salt marsh. At lower tides the mudflats are increasingly exposed and shorebirds and other wildlife are more actively feeding.
If you are on your own and not on a guided tour with us on Morro Bay, you do need to be careful on an ebb (outgoing or falling) tide as it approaches low tide as it is possible to get stranded on a mudflat while the water recedes around you. Our guides know the layout of the bay and you won't get stranded on a tour with us!
#faq-23
What is your cancellation policy for bad weather (rain or high wind)?
We certainly don't want people to feel like they have to go out in bad weather or they will lose all their money. However, we also don't want to cancel trips in marginal, but safe conditions (i.e. light rain or stronger winds) if people are up for an adventure. If there are light rains and/or stronger winds on the day of your kayak trip, you have three choices. First, continuing with the planned activities (perhaps with alternate activities worked in). Second, transfer with no additional fees to a trip in the future. Third, cancel entirely with a $15 per person cancellation fee. We always wait until the day of the trip to make this decision because weather forecasts are not always 100% accurate. On kayak trips, if the weather is so bad that we think going out would be a safety issue (i.e. heavy rains or very high winds), we will cancel the trip with a full refund. Note that fog or cooler weather are not considered bad weather for purposes of this policy. If you at all concerned about the weather prediction for the day of your tour, please don't hesitate call us so we can talk you through the range of situations and options on your tour.
#faq-15
Are your Morro Bay kayak trips considered eco tours?
Absolutely. Morro Bay is a wonderful place for an eco tour, especially by kayak. Our guides will explain about how the estuary works and will identify birds and other animals for you. But taking a kayak ecotour on Morro Bay doesn't mean you can't have fun! There is plenty of time for romping on the sand dunes and just enjoying the bay as well. Any and all of our Morro Bay kayak tours are excellent choices for eco touring. #faq-16

How far in advance do I need to reserve a tour?
It depends. If we have a large group booked on a particular date (and they may book months in advance), that group may be taking all our resources and we may not be able accept any more reservations for that date, even months in advance. On other days, even in our busy summer season, we may have good availability for many of our tours up to the close of business the day prior. We usually recommend booking with us (or at least checking availability with us over the phone) as soon as you know the date and tour you want. The cancel policy is the same regardless of when you book and all tour fees are fully refundable up to one week prior to the tour. Same day reservations are usually tough for us to handle (but not impossible - just give us a call to check).
#faq-19
Will I see otters? What is the best tour for seeing otters?
Morro Bay has a relatively large population of sea otters for such a small area, but that doesn't necessarily mean that we automatically see them on all our kayak tours. The sea otters in the bay tend to congregate in the northern harbor area, but quite frequently they can be found in the central section of the bay as well. Most of our regular tours concentrate on the central section of the bay and while we often see otters on these tours, we can't guarantee sightings. When the tide is low enough, however, our kayak tours usually explore the harbor area instead of the central section of the bay and on these tours the chances of seeing otters is somewhat greater. During lower tidal levels the otters in the harbor tend to congregate at a few regular locations. During mid and higher level tides, they range more freely. Although it is great to see otters on the bay, we also think that otters are only one facet of the myriad of wildlife seen on any tour. Even tours where we don't see otters are wonderful tours.
However, if seeing otters from a kayak is your top priority, please contact us to arrange a private tour. We will look for a low tide time to schedule the tour, as that provides the best chances to see otters. Hopefully these low tides times will be the morning as it is often windy and less pleasant to kayak in the afternoon.
Note that it is important not to approach otters too closely on the water as close approaches can disrupt their normal behavior. For more information about sea otter viewing, check out Sea Otter Savvy.
#faq-25
What are my options as a solo participant on a kayak tour?
As a solo participant, you have a few options for doing a kayak tour with us. You can be added to an existing regular tour, assuming we have at least two people signed up for that tour (two people is the minimum we need to guarantee a regular tour departure). You can also schedule a private solo tour (which costs more than joining a regular tour) if we have a guide available for that. If you prefer to join a regular tour, but would also be OK with a solo private tour if no one else signs up for a regular tour, we can set that up. If you only want to join a regular tour and we don't have one scheduled, we can get your name and contact information and let you know if a tour is scheduled.
#faq-26
Do you allow dogs on your kayak tours?
Sorry but no. We are dog lovers ourselves and for a while we did offer kayak tours with dogs (always as private tours). However, we found that most dogs would not sit peacefully in the kayak for the duration of the tour. Sometimes they even refused to get in the kayak. We also had dogs causing clients to capsize by jumping in or out of the kayak. Most dogs whined for at least a portion of the tour. In the end there seemed to be too many potential issues for us to feel confident that a dog kayak tour is something that we want to offer.
We have left our dogs in the car (windows open a bit) in the parking lot at the kayak docks many times without incident. Although there is not much shade, the temperatures are usually quite moderate.
#faq-27
Can the guide paddle in a tandem with someone in my group?
Yes on a private tour and no on a regular tour. In general we prefer that the guide be in a single kayak in order to respond better if there are any challenging situations that come up on a tour (i.e. someone gets tired and has to be towed). On a regular tour we don't want to pre-commit the guide to being in a tandem as this means they are less able to offer towing (and other help) to anyone else on the tour that may be struggling. On a private tour, it is OK for the guide to pre-commit to being in a tandem, especially if there are more young kids than adult paddlers or if there is an adult that can't paddle for some reason, as this has usually been agreed upon ahead of time and it is what is best for the group as a whole. Also, on a private tour we can slow down the pace quite a bit to meet the needs of the group if necessary.
#faq-29
Do you have a weight limit for participants?
The standard tandem that we use for our tours is rated to 550 lbs total, so as long as both participants together do not exceed this, we can use a tandem. We also have tandems that were originally rated to 500-600 lbs where we have removed one seat and moved the other seat toward the middle, making a single that can handle up to 500 lbs.
#faq-30