Owners
John Flaherty
A self professed outdoors junkie, John has bicycled, hiked, and paddled on five continents. He has hiked the entire John Muir Trail, bike toured in Patagonia and Europe, and sea kayaked in New Zealand and Baja. John moved to the Central Coast in 1997 and immediately fell in love with the area. "The first time I did a ride in Montaña de Oro State Park overlooking Morro Bay, I was simply stunned - it was so beautiful. Ever since that moment, we have been looking for a way to translate our extensive experience in the active travel world into creating opportunities for people to experience the Central Coast."

Before starting Central Coast Outdoors, John worked for a well established bike tour company for 13 years as a guide and manager and gained invaluable experience in designing and running first class biking and active travel trips for people of all ability levels. What he loves most about guiding is being able to facilitate an incredible outdoors experience, "to take people to a place they might not find on their own and stand back as they have a 'Wow' moment." John graduated from Dartmouth in 1987 with a B.A. in History and is an avid amateur natural historian and runner. He uses his bike for transportation locally as much as he can.
Virginia Flaherty
Growing up in California, Virginia developed a passion for the outdoors at an early age. By age ten she was a veteran of many Sierra backpacking trips led by her father. "I remember feeling complete happiness at being outside backpacking with my dad. It was very special to be together in such a beautiful place." Virginia's family members are long time residents of the Central Coast.

Virginia is an accomplished world traveler, having spent part of her childhood in Germany and traveling to virtually every country in Europe. Since then she has also traveled to South America, New Zealand, Australia, Africa, the Himalayas and Indonesia. Virginia graduated from UC Santa Barbara in 1985 with a B.A. in German Language and Literature and can still manage to hold a conversation in German.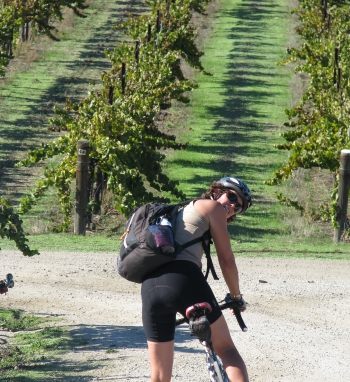 Virginia was a guide, hiring coordinator and field manager for a well established bike tour company for many years and developed a knack for creating smooth running events and trips, no matter the size nor complexity. "I get a kick out of taking the hassle out of trips so people can focus on why they are really there, to be outdoors having fun and to enjoy a beautiful natural place."
A competitive swimmer for much of her youth, Virginia now enjoys mountain biking, road riding, hiking, kayaking on the bay and simply being outside here on the Central Coast. Her other passion is wildlife rehabilitation and she works part time for the local non-profit wildlife rehab center, Pacific Wildlife Care. She also does educational talks with Pacific Wildlife Care's educational animals.
In 2003 John and Virginia traveled to China and adopted their daughter, Kinley. in 2019 Kinley graduated from Morro Bay High School and after spending a gap year in Italy is currently attending the Rauser College of Natural Resources at UC Berkeley.