Dinner on the Dunes - Private
PRICING
| Group Size (maximum 16) | 2 | 3 | 4 | 5-6 | 7-9 | 10+ |
| --- | --- | --- | --- | --- | --- | --- |
| Price per person (youth discounts) | $160 | $150 | $140 | $130 | $120 | $100 |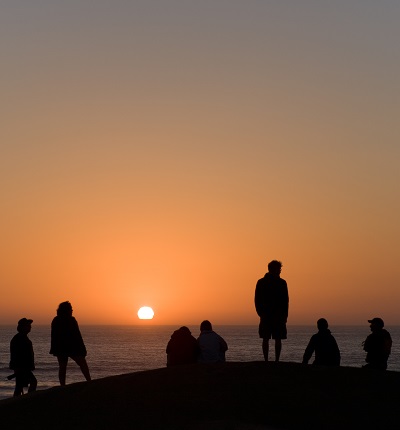 Our Dinner on the Dunes trip is possibly one of the most unique kayak trips in California. Kayaking Morro Bay in the late afternoon, we'll visit some of the favorite hangout areas for local wildlife before heading to the outer sandspit. Beaching on the far side of the bay, you'll have a chance to frolic in the pristine sand dunes while your guide prepares a delicious California beach style grilled dinner, including complimentary locally produced wines and beers and a selection of sodas, juices and bottled waters. As the sun slowly slips behind the dunes, you'll climb back in your kayak for a magical paddle in the deepening dusk back to the docks - an experience you will not soon forget!
Youth Discounts
For groups of less than 10 people, youths age 12 and under get a 20% discount. For groups of 10 or more people, it is a flat rate for each person in the group regardless of age.
Wind and Cancellations
If it's going to be a windy day, it's usually windier in the afternoon/early evening than in the morning. Diiner kayak tours are sometimes (perhaps 10-15% of the time) cancelled due to wind. It is much rarer (almost never) for us to have to cancel morning tours due to winds.
| Total Tour Time | Avg Time on Water | Avg Time on Dunes | Meeting Time | Includes |
| --- | --- | --- | --- | --- |
| 3-3.5 hours | 1.5-2 hours | 1-1.5 hours | Same as for Sunset Paddle | Guide, kayak, PFD (life jacket), paddle, waterproof fleece lined lap blanket, water, snack (granola bars), grilled dinner |
Menu
Click on this link for the standard menu for this tour. The standard menu is good for meat eaters and vegetarians who are OK with some cheese. With advance notice, we can also accommodate most food restrictions (i.e. gluten free, vegan, etc).