Kayaking: Morro Bay Short Paddle (Family Friendly)
Itinerary Description
Located close to Cayucos and Cambria, our Morro Bay Short Kayak Tour is an action packed guided kayak tour designed to optimize your time on the wildlife rich waters of Morro Bay National Estuary, which is protected from the open ocean by a
four mile long sandspit. We don't visit the sand dunes on the west side of the bay (as we do on our Kayaking: Morro Bay Half Day Classic Tour), but there are plenty of birds as well as other wildlife to see and fun to be had for beginners and experts alike on this Morro Bay kayak tour. Concentrating on the eastern side of the bay, the places your naturalist guide may take you to visit include an oyster farm, a seal haul out area, a heron rookery and you have chances to possibly see sea otters. This guided kayak tour on Morro Bay is close to Cayucos and Cambria and is an excellent choice for all paddlers, including beginners and family groups. Family groups with very young kids (i.e. 2-6 years old) and no paddling experience even among the adults may be better served by turning this into a private tour so we can adjust the pace to meet your needs. Also, if your group has more kids under 10 years old than adults/older kids we may need to do a private tour. Call us for details!
"We had the BEST time... thanks to Ross and the otters, seals, jellies and birds galore ... we will rave about it to the folks back home!"

Kristine Breese

Los Angeles, CA
| Total Tour Time | Price | Average Time on Water | Meeting Time | Includes |
| --- | --- | --- | --- | --- |
| 2-2.5 hrs | $70 per person (Youth Discounts) | 1.5-2 hours | 9:30 AM (or earlier if windy) | Guide, kayak, PFD (life jacket), paddle, waterproof fleece lined lap blanket, water, snack (granola bars) |
Comparison to Other Tours
Our Kayaking: Morro Bay Half Day Classic tour starts a little earlier and ends a little later than the Short Paddle. The main difference between the Half Day Classic and the Short Paddle is that the Short Paddle does not make a visit to the dunes. The actual paddling time between the two tours is similar. Both tours are great for families and both are close to Cambria and Cayucos. You see about the same amount of Morro Bay wildlife on both tours.
If you prefer to do the Short Paddle as a private tour, we call that our Private Two Hour Tour.
Our Kayaking: Sunset Paddle covers much of the same territory on the water as the Short Paddle and also includes a visit to the dunes. Besides the visit to the dunes, the main difference is the afternoon start time for the Sunset Paddle as well as the beer, wine, non-alcoholic beverages and hors d'oeuvres served on the dunes. The Sunset Paddle is more oriented toward adults (minimum age 13), but if you have younger kids you can also book a private Sunset Paddle.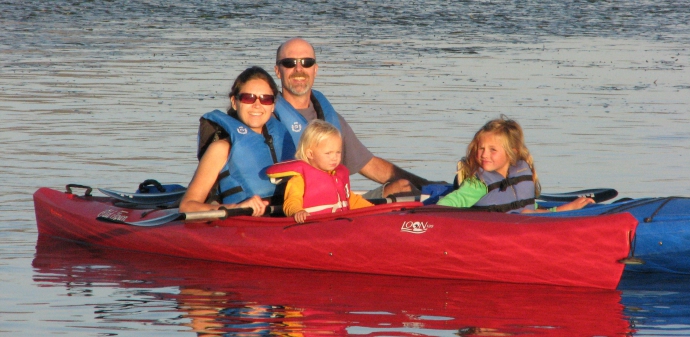 Nearby Towns
If you are looking for Cayucos kayak tour or a Cambria kayak tour, our Morro Bay guided kayak tours are a great option. Cayucos is only a 10-15 minute drive away from our kayak docks in Morro Bay. Cambria is only about a 30 minute drive from our kayak docks in Morro Bay. Our Morro Bay guided kayak tours are also close to San Luis Obispo (about 25-30 minute drive) and Pismo Beach (about 30-35 minute drive).