Guides
We are very proud of our expert guide staff. They are an intergral reason our kayak, bike and hike tours along the Califoirnia Central Coast area are so highly rated.
Kat Amsinger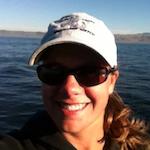 Kat was born and raised in Oregon where nearly every weekend of her childhood she was camping, hiking or kayaking with her family. Mountains, rivers and beaches were around every corner and her father encouraged constant exploration. Since moving to California, she has been finding new adventures all around the state to enjoy, such as Yosemite, Big Sur and Sequoia National Park. "I couldn't have settled in a more beautiful part of California than the Central Coast. The people in Morro Bay are wonderful and the scenery is so breathtaking that I never tire from it."
She has always known she would work with nature and since graduating from Oregon State she has explored many directions to incorporate that into a career. Taking reptiles to classrooms, training animals as a zookeeper, driving/guiding bus tours through the San Diego Zoo, and taking students on nature hikes are all experiences that have shaped her knowledge of the natural world and her love of sharing its wonder with others.
Craig Stone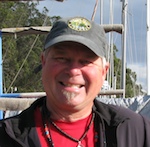 Craig is a true local, born and raised in the San Luis Obispo area. Although Craig has traveled quite a bit, he refers to Morro Bay as his home port and currently resides there. Craig is an artist and can often be found at local art and music festivals. He is an avid mountain biker as well as a hiker and a kayaker and loves exploring the Big Sur area. Craig is passionate about sharing the wonders of our local area with visitors and locals alike. He can often be found on Morro Bay for a dawn kayak over to the dunes for a bit of meditation and yoga.
Steve Hendricks
Steve grew up in SLO County, where he developed a lifelong passion for the water. He went north to Humboldt State (where he met his wife) and Oregon State to study Fish Biology. After working for 12 years as a fisheries biologist in the Northwest, the rain finally got to Steve and his wife and they moved back to the Central Coast of California. For the past 6 years Steve has taught biology at Cuesta College and Hancock College. When he's not exploring the coast with his young daughter Zoe, Steve enjoys fishing, surfing, mountain biking, hiking, SCUBA diving and (of course) kayaking. He has been kayaking for over 25 years and loves sharing the beauty and wonders of the Morro Bay estuary with unsuspecting visitors!
Mandy Davis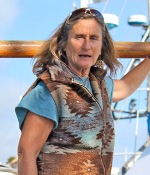 If you could describe Mandy in a few words it is this... she possesses an adventuress spirit, a keen eye for the patterns in nature and a deep love for creatures and the ecosystems they live in. She has a strong background in biology, decades of coaching and environmental instruction, experience as a world-class competitive paddler, a lifetime relationship with the ocean, and has been an environmental activist, a poet, and a creative director of an advertising and marketing firm. All this background and passion gives her a unique ability to communicate her love for the earth and share it with others. After years of travel to and paddling in places as remote as Antarctica, the Galapagos, South Africa and Tasmania, Mandy firmly believes that the Morro Bay Estuary is an unsurpassed coastal jewel and one of the best locales for environmental education and unique wildlife experiences in the world. The Central Coast always draws her back home like a homing pigeon. It is here she was born and raised, and it is her privilege to call the waters of the estuary home today. It is her pure delight to share her rich and unique home with others when she can.
Dave Camilleri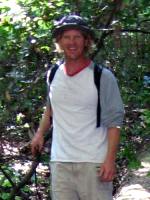 Dave has been a world traveler from birth by virtue of his father being in the navy. His family loved to boat, fish and camp when he was young and Dave credits these numerous trips for his love of the outdoors. Dave is most at home in the water and is an avid surfer. His adult travels have taken him to many Pacific Rim destinations including Guam, Costa Rica and Kauai. Dave currently resides a stones' throw from the ocean in the town of Morro Bay with his wife Margo and their young daughter Jessica. When not surfing or guiding kayak trips, Dave can often be found working with young students at one of our local Central Coast environmental schools or camps.
Paul O'Connor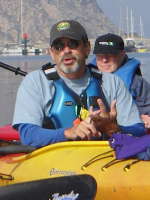 Since retiring as a Fire Captain in the California Department of Forestry in 2006, Paul has thrown himself into outdoors pursuits with a passion. He has become an accomplished docent for Morro Bay State Park, as well as for the Point San Luis Lighthouse, guiding numerous tours in both areas for all kinds of people. With 15 years of kayaking experience plus his naturalist training and an all round friendly demeanor, Paul is a great asset to the Central Coast Outdoors guide team.
Jen Henderson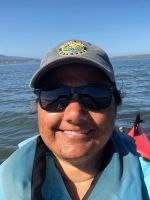 Jen was born and raised in Ventura, on the coast of California. She grew up playing on the beach, camping with family and friends, playing sports, climbing trees, and catching pollywogs in barrancas. Jen moved to the local area to attend Cal Poly, where she studied kinesiology, recreation, teaching, and aquatics. At Cal Poly, Jen worked with kinesiology students in a tandem kayaking program. Students paired with people with disabilities.This is when Jen developed a passion for kayaking. Jen loves the sun, sand, and water. She posseses an infectious enthusiasm and loves sharing her passion for the outdoors.
Heather Curran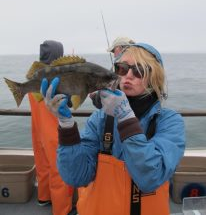 Heather grew up on the North Coast of California in Humboldt County, where she spent much of her childhood exploring the Redwood forests and playing in the cold surf.
In 2006, she moved to San Luis Obispo to attend Cal Poly, where she went on to earn both her B.S. and M.S. in Biological Sciences. Heather has spent many years conducting marine research on the Central Coast, and has studied everything from the animals growing on the docks, to the fish populations in local Marine Protected Areas.
Heather is passionate about sharing her love of the natural world, and believes that getting people to fall in love with wild places is one of the best ways to conserve them. She has taught outdoor education in many beautiful places around the globe, including Catalina Island and Southwest Australia. In addition to leading kayak tours, she also works at a local Outdoor School, where she guides school children on hikes and teaches them local natural history.
Steve Schubert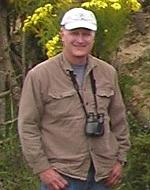 Steve attended Cal Poly, San Luis Obispo and received a Master's degree in Field Biology. He taught high school biology and earth sciences for several years and presently teaches natural history courses for Community Programs at Cuesta College and works for a local residential outdoor school attended by 6th grade students. Steve served on the committee that recently published "Wildflowers of San Luis Obispo" and is the author of "The Peregrine Falcons of Morro Rock - A 40-year History", available at Amazon.com. He is past-President of Morro Coast Audubon Society and is the volunteer coordinator of the Hi Mountain Lookout Project, where volunteers and college interns radio track the movements of California Condors and conduct other biological field research projects. Steve enjoys kayaking, running, biking, hiking, playing basketball, and wildlife and landscape photography.
Tom Medeiros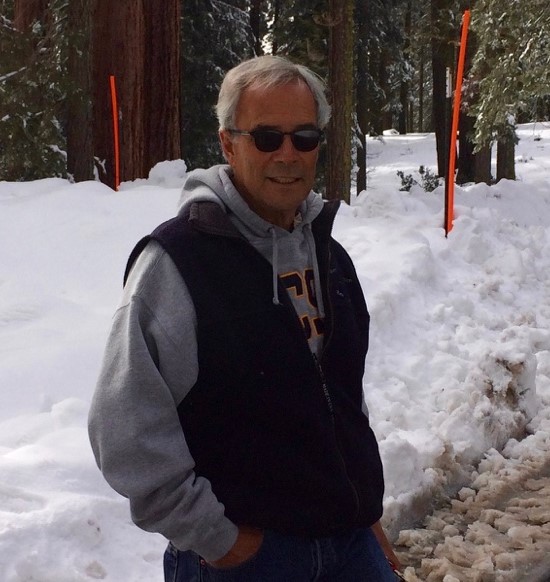 Moving from Santa Cruz to the Morro Bay area after a 35 year career as a science educator and university lecturer, Tom has continued to follow his passion for the sciences and outdoor pursuits. His many field activities, including monitoring water quality with the Morro Bay National Estuary Program and hiking trails in Montaña de Oro as a State Park docent, continue to expand his knowledge of the local environment of the Morro Bay. An active kayaker and outdoor leader, Tom is a natural fit for Central Coast Outdoors guide team.
Katharina Obermoser-Ruef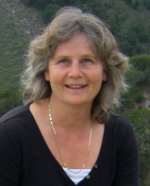 Katharina grew up in a small town in Austria where she and her siblings spent many memorable summer weekends hiking with her dad. In the winter he taught the family how to downhill and backcountry ski. Since childhood, Katharina has always had a love for the outdoors, adventure, and just being active. Wanting to combine her love of the outdoors with education led her to pursue a BS in Recreation Administration with an emphasis in outdoor education from Cal Poly in San Luis Obispo. Katharina loves to kayak, hike, do yoga and Pilates, and to just explore this incredible place that she lives in. She also enjoys traveling and learning about different cultures. Katharina is curious by nature and loves learning about wildlife as well as sharing her discoveries with others.