Guides
We are very proud of our expert guide staff. They are an intergral reason our kayak tours in Morro Bay are so highly rated.
Kat Robles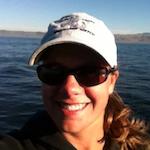 Kat was born and raised in Oregon where nearly every weekend of her childhood she was camping, hiking or kayaking with her family. Mountains, rivers and beaches were around every corner and her father encouraged constant exploration. Since moving to California, she has been finding new adventures all around the state to enjoy, such as Yosemite, Big Sur and Sequoia National Park. "I couldn't have settled in a more beautiful part of California than the Central Coast. The people in Morro Bay are wonderful and the scenery is so breathtaking that I never tire from it."
She has always known she would work with nature and since graduating from Oregon State she has explored many directions to incorporate that into a career. Taking reptiles to classrooms, training animals as a zookeeper, driving/guiding bus tours through the San Diego Zoo, and taking students on nature hikes are all experiences that have shaped her knowledge of the natural world and her love of sharing its wonder with others.
Craig Stone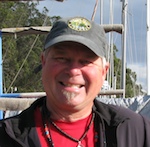 Craig is a true local, born and raised in the San Luis Obispo area. Although Craig has traveled quite a bit, he refers to Morro Bay as his home port and currently resides there. Craig is an artist and can often be found at local art and music festivals. He is an avid mountain biker as well as a hiker and a kayaker and loves exploring the Big Sur area. Craig is passionate about sharing the wonders of our local area with visitors and locals alike. He can often be found on Morro Bay for a dawn kayak over to the dunes for a bit of meditation and yoga.
Ed Roberts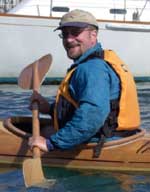 Ed grew up in the UK and has been paddling kayaks since high school. Starting on lakes, he progressed to white water and surf. More recently, he has worked as a naturalist on California's Central Coast for over 20 years. His favorite parts of being a kayak guide are making connections with clients and getting to paddle regularly on the bay watching the wildlife change with the seasons.
Dave Camilleri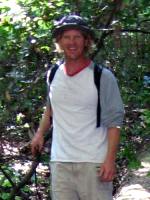 Dave has been a world traveler from birth by virtue of his father being in the navy. His family loved to boat, fish and camp when he was young and Dave credits these numerous trips for his love of the outdoors. Dave is most at home in the water and is an avid surfer. His adult travels have taken him to many Pacific Rim destinations including Guam, Costa Rica and Kauai. Dave has a lengthy background in environmental work and loves to guide kayak tours!
Jen Henderson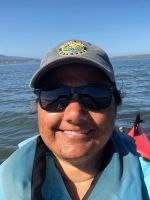 Jen was born and raised in Ventura, on the coast of California. She grew up playing on the beach, camping with family and friends, playing sports, climbing trees, and catching pollywogs in barrancas. Jen moved to the local area to attend Cal Poly, where she studied kinesiology, recreation, teaching, and aquatics. At Cal Poly, Jen worked with kinesiology students in a tandem kayaking program. Students paired with people with disabilities.This is when Jen developed a passion for kayaking. Jen loves the sun, sand, and water. She posseses an infectious enthusiasm and loves sharing her passion for the outdoors.
Bonnie Sayers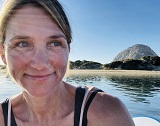 Bonnie has lived in the area since 2005 and considers Morro Bay her home. She has worked in conservation and restoration ecology with State Parks, in environmental agriculture, as a naturalist with a local outdoor education school, and she studied eco-systemic thought in graduate school. What she loves most about guiding eco tours is that wildlife always has its own story to tell. Nature is the original storyteller, and the natural diversity of the central coast provides some epic wildlife stories to experience on any tour. When she isn't guiding eco tours, you can find Bonnie on her standup paddleboard training for the Morro Bay triathlon, doing yoga or meditation for peace of mind, gardening, or catching some surf with her family and friends. Bonnie is also a Holistic Health Coach who focuses on balancing mind, body, and spirit through lifestyle medicine. She considers eco tours to be a form of lifestyle medicine because time spent in nature is healing in addition to being fun!
Michael Souza aka "Ocean Mike"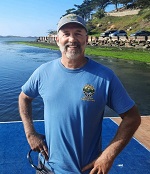 Michael was born and raised in San Luis Obispo and lives in Morro Bay. His love of nature is due to his father who was a teacher and would take the family on backpacking trips during the summers. He is a musician and videographer and has provided music for multiple local productions. He's also done some acting and had a speaking role in the locally filmed thriller 'Dark Honeymoon' (2008) starring Roy Scheider and Daryl Hannah. Michael is an avid kayaker and spends as much time on the water on Morro Bay as possible!
Katharina Obermoser-Ruef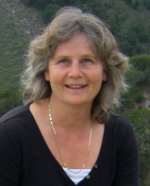 Katharina grew up in a small town in Austria where she and her siblings spent many memorable summer weekends hiking with her dad. In the winter he taught the family how to downhill and backcountry ski. Since childhood, Katharina has always had a love for the outdoors, adventure, and just being active. Wanting to combine her love of the outdoors with education led her to pursue a BS in Recreation Administration with an emphasis in outdoor education from Cal Poly in San Luis Obispo. Katharina loves to kayak, hike, do yoga and Pilates, and to just explore this incredible place that she lives in. She also enjoys traveling and learning about different cultures. Katharina is curious by nature and loves learning about wildlife as well as sharing her discoveries with others.