Kayaking: Morro Bay Half Day Classic (Family Friendly)
Itinerary Description
Located close to San Luis Obispo (SLO), our classic half day guided kayaking tour on Morro Bay is our most popular trip, and with good reason! It combines a fun filled morning of paddling through waters protected from the open ocean and rich in wildlife with the opportunity to explore the pristine sand dunes on the far side of Morro Bay (kids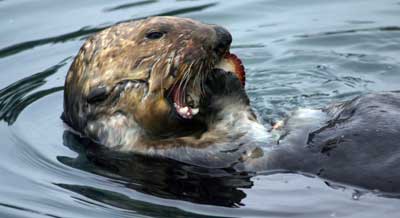 love the dunes!). After launching, our exact kayaking route may vary depending on tides and recent wildlife activity on Morro Bay, but includes possible visits to a seal haul out area, a heron rookery, and an oyster farm as well as chances to see otters. Later in the morning, we beach our kayaks on a secluded part of the sand dunes. Digging your toes in the sand, you can simply enjoy the bay side of this magical environment or opt for a short climb over the dunes with your guide to stunning ocean views up and down miles of isolated beach. The short paddle across Morro Bay back to the docks rounds out this highly rewarding guided kayak tour near SLO. This trip is an excellent choice for all paddlers, including beginners and family groups. Family groups with very young kids (i.e. 2-6 years old) and no paddling experience even among the adults may be better served by turning this into a private three hour tour so we can adjust the pace to meet your needs. Also, if your group has more kids under 10 years old than adults/older kids we may need to do a private tour. Call us for details!
Our Morro Bay Kayaking Tour Voted #1 Watersport Adventure on the Central Coast.
by Outdoor Writers Association of California. See the article.
| Total Tour Time | Price | Avg. Time on Water | Avg. Time on Dunes | Meeting Time | Includes |
| --- | --- | --- | --- | --- | --- |
| 3-3.5 hrs | $80 per person (Youth Discounts) | 2-2.5 hours | 30-60 minutes | 9:00 AM (or earlier if windy) | Guide, kayak, PFD (life jacket), paddle, waterproof fleece lined lap blanket, water, snack (granola bars) |
"I just want to thank you and your crew again for a WONDERFUL excursion! I have already started recommending to my friends. Andy was simply delightful. His knowledge of the local ecosystem and integrating those facts with the wildlife made it not only educational for me, but it also made it an epic time...Thank you and Andy again. It really was the high point of our weekend trip! You guys rock!

Ken and Renee Lee Trabuca Canyon, CA
Comparison to Other Tours
Our Kayaking: Morro Bay Short Paddle starts a little later and ends a little earlier than the Half Day Classic. The main difference between the Half Day Classic and the Short Paddle is that the Short Paddle does not make a visit the the dunes. The actual paddling time between the two tours is similar. Both tours are great for families and are close to San Luis Obispo (SLO).
If you prefer to do the Half Day Classic as a private tour, we call that our Private Three Hour Tour.
If you are looking for something extra special, you can also add a gourmet picnic lunch served on the dunes to the Half Day Classic tour. This is done as a private tour.
Our Kayaking: Sunset Paddle covers much of the same territory on the water as the Half Day Classic and also includes a visit to the dunes. The main difference is the late afternoon start time for the Sunset Paddle as well as the beer, wine, non-alcoholic beverages and light eats served on the dunes. The Sunset Paddle is more oriented toward adults (minumum age 13), but if you have younger kids you can also book a private Sunset Paddle.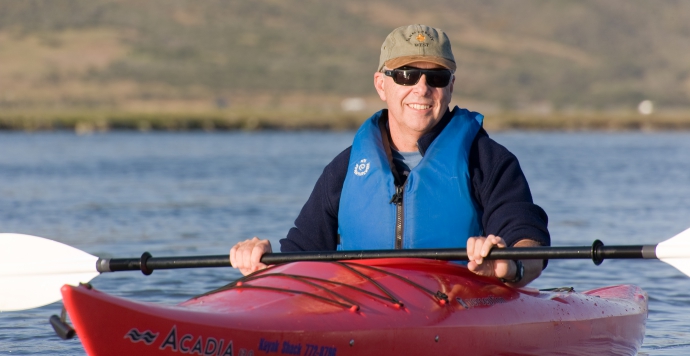 Nearby Towns
If you are looking for a San Luis Obispo kayak tour, our Morro Bay guided kayak tours are a great option. San Luis Obispo is only a 25-30 minute drive away from our kayak docks in Morro Bay. Our Morro Bay guided kayak tours are also close to Cambria (about 30 minute drive), Cayucos (about 10-15 minute drive) and Pismo Beach (about 30-35 minute drive).