Trip Finder
Looking for things to do in SLO County or for something specific in a trip with us? Let this page help you narrow down your choices. We've selected the elements of our trips that people ask about and created this guide based on those common questions.
Best Trips for Wildlife
Virtually any of our kayak trips on Morro Bay are great for wildlife. There are countless birds and lots harbor seals as well as chances to see sea otters. Tours in summer and early fall often see sea lions.
Kayaking: Morro Bay Half Day Classic
Kayaking: Morro Bay Short Paddle
Kayaking: Sunset Paddle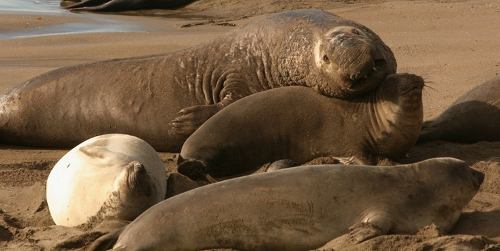 The best biking trips for wildlife are the coastal trips. All of our Pacific Coast bike trips visit the elephant seal colony near Hearst Castle. The Avila See Canyon trip takes in sea lions and other sea life at Harford Pier.
Biking: Pacific Coast Full Day
Biking: Pacific Coast Half Day
Biking: Avila See Canyon Half Day
Many of our hiking tours have great wildlife viewing. On the Big Sur tour you have chances to see California condors. We also often see grey whales and humpback whales seasonally on our Big Sur tours (please contact us for best times for whale watching on the Big Sur coast). We usually see sea otters on the Estero Bluffs hike on our Private Short Hikes program.
Best Trips for Families
For the best tours and things to do in San Luis Obispo County for families, please see our Family Vacations page.
"Rhett, Jillian, Patti and I had a wonderful experience on our kayak trip. Sometimes teenagers are a little tough to entertain and I will say they both had a ball. Your guide, Virginia, did a great job for us. She was knowledgeable and took the time to answer all our questions. She answered questions ranging from local topology, flora and fauna, to oyster farming and leases. We had a great time. The three hour tour seemed like 20 minutes. We will recommend your tour over and over again."

Jeff Bond
Trabuco Canyon, CA
Best Trips for Romance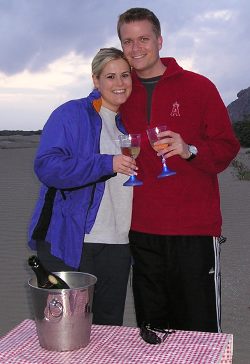 Our sunset kayak tours are a great choice for couples celebrating a special event or just looking to have a romantic experience. We've even had couples get engaged on one of our sunset paddles!
Any and all of our biking and hiking tours are great for couples as they are all guaranteed private exclusive departures. Just you (and the guide) for the duration of the tour!
Guided Day Bike Trips
Guided Day Hikes

Trips in Wine Country
Looking for things to do in SLO County wine country? The following tours are exclusively in local wine country areas and ride between wineries with multiple opportunities to taste award winning wines from Edna Valley or Paso Robles.
Biking: San Luis Obispo Wineries Half Day
Biking: Paso Robles Half Day
Biking: Paso Robles Full Day
Coast and Wine
One of the great things about California's Central Coast is that coast and wine are in such close proximity. On our Avila See Canyon tour you can literally ride between the coast and several wineries just inland. On our other tours our company vehicle will shuttle you from your coastal adventure to the wineries.
Biking: Avila See Canyon Half Day
Spectacular Scenery
While all of our tours pass through scenic areas, many of our coastal tours feature incredible scenery. These are our favorites for spectacular coastal vistas.
Hiking: Big Sur Ecotour
Biking: Pacific Coast Full Day
Biking: Pacific Coast Half Day


Easiest Trips
All of our kayak trips on Morro Bay are designed for people of all levels of fitness.
Kayaking: Short Paddle
Kayaking: Morro Bay Half Day Classic
Kayaking: Sunset Paddle
Our easiest bike trip is in Avila See Canyon and spends a lot of time on a virtually level creek side bike path.
Biking: Avila See Canyon Half Day
Our easiest hike trip is the Big Sur tour. It's a series of short hikes in two separate state parks.
Most Challenging Tours
While most of our tours are designed to be within reach of most people, many can be modified to be more challenging. We also have a bike itinerary for the Paso Westside not listed on our website that is quite challenging. Please contact us for details.