Group Tours (Youth Group and Corporate)
For youth groups or corporate travel groups, Central Coast Outdoors is the answer to getting your group outside and having FUN in the SLO County area! For group travel tours, don't let your youth, school or business group get stuck in a rut in San Luis Obispo County. The Central Coast has a whole wild and unspoiled natural world to offer beyond the traditional Hearst Castle or winery tour. And we can help connect you with that world. Being in nature doesn't mean you have to rough it, however. From waterproof lap blankets on our kayak tours to gourmet picnic lunches on private tours, we will pamper you as well. For youth, school or corporate tours in SLO County or Morro Bay look no farther than an excursion planned by the expert staff at Central Coast Outdoors.
School and Youth Groups
Our outdoors tours, especially our Kayaking: Morro Bay Half Day Classic or our Kayaking: Morro Bay Short Paddle, are very popular with youth and school groups. Central Coast Outdoors guides are well versed in providing an educational experience that is also fun! Many scout troops as well as middle school and high school groups have done tours with us. We can usually accommodate up to 32 people on any of our guided Morro Bay kayak tours, and sometimes more if we have the staff and equipment available. If your group has a special focus, we can also create a custom tour or outing for you. All groups of ten or more qualify for our 20% group discount on any of our kayak tours. All youth/school groups with 10 or more qualify for the group discount rate of $64 per person for our Kayaking: Half Day Classic tour, which is our most popular tour for youth/school groups.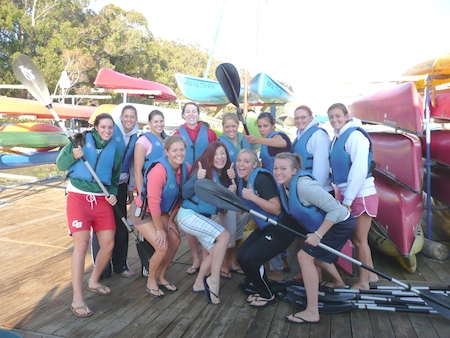 Business and Corporate Groups
Looking to get your office group or business meeting group outside for some fun in the SLO County or Big Sur area? Look no further than Central Coast Outdoors. We can do everything from a 1-2 hour kayak trip or hike to a multi-day multi-sport trip including lodging and food. Your corporate travel group can work with an existing package tour or we can help you create a trip tailored to your group's needs. Our Morro Bay kayak tours also offer opportunities for team building, from having two co-workers in a tandem to more complicated on the water objectives. Have fun and meet your goals at the same time!
"John and his team at Central Coast Outdoors were wonderful to work with. Being out of state was never a concern, as every detail was handled in a timely and professional manner. He was more than willing to customize their regular tours to accommodate our needs and went out of his way to ensure a memorable experience. I would highly recommend them for any opportunity you have!"

Rick Johnson
Vice President and Chief Technology Officer, VitalSource Technologies, Inc.
Suggested Group Kayak Tours
Our series of Morro Bay kayak tours are our best sellers, for individuals as well as all kinds of groups, from youth groups to corporate travel tours. They are perfect for incentive group travel as well. No kayak experience or special fitness level is necessary to go on any of our Morro Bay kayak tours, making them ideal for large groups of people with mixed abilities. We can put up to about 50 people on the water at a time.
Most of our regular kayak tours are suitable for groups. Groups of 10 or more get a 20% discount off the regular adult rates for any of our regular kayak tours. Here is a suggested list of kayak tours:
Kayaking: Morro Bay Half Day Classic
Kayaking: Morro Bay Short Paddle
Kayaking: Morro Bay Sunset Paddle
Many groups doing a kayak tour with us also enjoy a gourmet picnic lunch or a California beach style grilled dinner on the dunes in conjunction with their tour. Having a meal on the dunes is a truly unique experience!
Kayaking: Private Tours with Lunch or Dinner
Some Previous Clients
Ventura Charter School
Lone Madrone Winery
Cal Poly - San Luis Obispo
Road Scholar
Pew Institute for Marine Science
Venteux Winery
Wilkins Zurn
Westridge School for Girls
Dunn School
UC Santa Barbara Women's Softball Team
Sacramento City College Women's Volleyball Team
Deans and Homer Insurance
Outdoor Writers Association of California (Voted #1 and #2 best SLO County excursions!)
Breakaway Tours & Event Planning
Cayucos Elementary School
Young Presidents Organization - Indianapolis Chapter
...and numerous Boy Scout and Girl Scout Troops