Family Tours
Looking for a way to spice up your family adventure vacation in California? Look no further than an outing with Central Coast Outdoors. Many families have written to tell us that a tour with us was the highlight of their California family adventure vacation here on the Central Coast.
"As we were driving home from the airport we were discussing what everyone's favorite thing on our vacation was. There were many other fine details of the trip, but overwhelmingly, our kayaking trip received rave reviews from all four members of our family! It was the favorite part for every one of us. Our guides, Ross and Cindi were awesome... The whole experience was outstanding and was one we will never forget and one we will most certainly recommend to our friends who plan to travel in your direction as well as to our travel agent so she can recommend it to her clients... It was GREAT!"

The Carpenter Family
Coventry, RI
Our Morro Bay kayak tours are a big hit for California family vacations, even with families staying in Pismo Beach or Cambria. Our Kayaking: Morro Bay Half Day Classic Tour is designed with beginners and family groups in mind and has been the highlight of countless family vacations in the area. Unlike kayak tours out of Pismo Beach, Cayucos or Cambria, kayak tours in Morro Bay are protected from the large waves of the open ocean by a four mile long sandspit.

It's like kayaking on a small lake and is therefore much more appealing to family groups with little or no kayaking experience or families with younger kids. We have minimum age of 2 years old on most of our Morro Bay kayak tours (please see our Kayak FAQs page for more details). Kids age 12 and under get a 20% discount. You don't need wetsuits or other special gear. Kids especially enjoy running on the dunes and the wildlife viewing on the water. Furthermore, all our guides are thoroughly versed in presenting information to kids in an age appropriate way.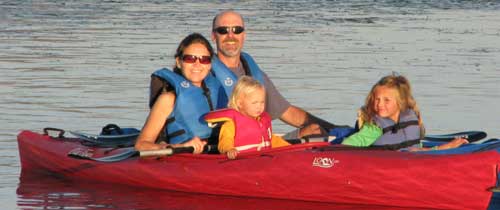 To help families decide what tour might be best for their family adventure vacation, we have designated several trips as "Family Friendly." We have a young daughter ourselves and often take her and her friends outside with us, so we know what works and what doesn't when it comes to adventures with kids. Please follow the links below for more information about these family oriented tours. We also have special rates for youths (see below). We hope to get a chance to take your family outside with us!
Kayaking: Morro Bay Half Day Classic
Kayaking: Morro Bay Short Paddle
Families with very young kids (i.e. 2-6 years old) and no kayaking experience may be better served by a private kayak tour. With a private kayak tour, we can adjust the pace to meet the needs of your family without you feeling like you are holding up the rest of the group. Pricing for families for private tours is not that much more than for a regular tour. Learn More...